Home of Athletics Canterbury – Ngā Puna Wai
Ngā Puna Wai has been the home of Athletics Canterbury since October 2018 and is the only Class 1 international-standard athletics track in New Zealand.
As a full competition facility, we can cater for every type of event from a primary school sports day right up to Oceania Championships.
As a training venue, the track is open for use at all reasonable hours when there are no prior bookings.
Our booking list is kept as up to date and when the facility is booked it is unavailable for other users.
Please note that during the months of October through to March the facility is particularly busy with school bookings and competitions. Availability can be checked via the Athletics Canterbury calendar.
There is a small charge for casual usage of the track for individuals wishing to use the athletics track and field facilities for personal training. Any questions please email gm@athleticscanterbury.org.nz
All schools or large groups should request bookings via npwbookings@ccc.govt.nz if they wish to book a time to use the athletics track or field.
Getting there –

Other Competition Venues
Trust Aoraki Athletics Track, Timaru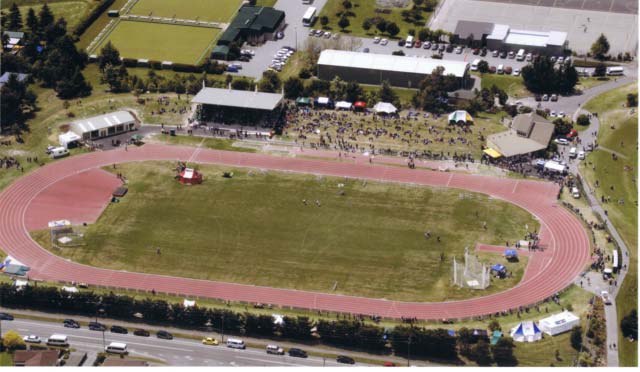 The Trust Aoraki Athletics track is located in Timaru, at Aorangi Park.
The facility is an all-weather 400m track.
Getting here –