Interclub preview - 7th November
Canterbury Inter-club preview
Nga Puna Wai, November 7th, 2020
Following a successful first Canrun Track Series Twilight meeting on Thursday night, plus it is exam season, entries for this weekend's competition are slightly down but there will still be some keen competition.
Athletes are also preparing for the South Island & Canterbury Combined Events Championships being held in Dunedin, next weekend.  It still not too late to enter.  Click on this link below to find out more info.  It also includes some interclub events and the South Island Master Track & Field Championships.
http://www.athleticsotago.co.nz/newsarticle/96764?newsfeedId=1062229
The standout event this weekend will be the 800m.  None of last season's prominent athletes are competing in the Men's contest, however in the Women's section it will be interesting to see how two new comings to this event, Anna Percy (COBU) and Maia Broughton (COBU), compete given they are both more prominent at one the lap contest rather than two.  Will they challenge Angie Petty (CANU), who is competing her bid to qualify for the delayed Tokyo Olympics, next year?
Canterbury's 2019 / 2020 Hurdler of the Year, Julia Burnham (COBU), races over the 100m Hurdles and based on her performances so far this season will be looking for a prsonal best level time.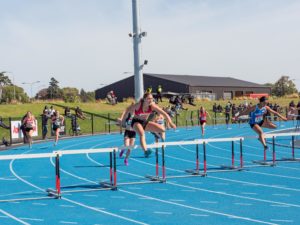 Both Charlie Cameron (CCCA) and Josh Bull (PTOC) will be wanting to keep their improvements in the Pole Vault continuing, with the NZ Secondary Schools now just over 5 weeks away.
Hannah Moloney (COBU), will be looking to move her distance out further towards her PB of 5.38m in the Long Jump, leading towards her involvement in the Rhythm & Jumps meeting. Also, in the Long Jump, Maddie Wilson (COBU) – NZR W18 Heptathlon, will want to lift her performance in preparation for her Competition down south, next week.
Nationally number one ranked, Keeley O'Hagan (COBU), will be looking to break the 1.80m for the first time this season in the High Jump. Claudia Knight(PTOC), 2019 NZSS Senior runner-up, continues her competitive preparation for this year's meeting in Tauranga next month.
There are a few sprinters missing this week but Elliot Nye (COBU) and John Wells (CCCA) in the Men's and Fiona Morrison, Julia Burnham and Maia Broughton, all COBU, should be prominent over the shorter distances again at the blue NPW track.