Interclub Review of Results - 14th Novemeber
Athletics Canterbury Interclub Review
Nga Puna Wai,  14th November, 2020
The best conditions of the season beckoned the athletes at the stadium on Saturday.
As predicted, a number of junior athletes were prominent, both on the track and in the field.
Julia Burnham (COBU) had a fast but busy day winning the 100m Hurdles W18, with a very good run dipping under the 15 sec. mark. She gained a double with her victory over Senior athletes McKenzie Jeffries and Fiona Morrison, both COBU, in taking the 100m.
Her treble chances were quashed by Maia Broughton (COBU), in the 200m, who produced a very good sub 25 sec run to demote the 100m quinella to the silver and bronze positions.
Two schoolboys took out the Men's sprints with Will Chun (COBU), in the 100m and John Wells (CCCA) in the 200m. Two even younger athletes placed second and third in the 200m. Sub-23 second runs by 15-year-olds, Joseph Nash (CCCA) and Asher Pettengell-Brand  (COBU), illustrated the growing young sprint talent emerging this season.
In the vertical jumps it was once again younger athletes that were to the fore. Charlie Cameron CCCA) exposed his credentials for the NZSS Champs., in a month's time, with his 4.15m clearance to win the Pole Vault. High Jumper Eli Leifi (COBU) joined the teenage 'High Jump Talent' club with his winning jump and Personal Best of 1.95m.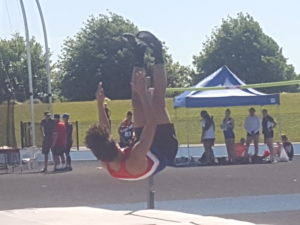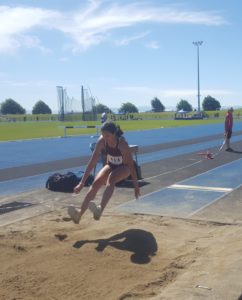 Not to be outshone, Jessica Hendren (NCAN) produced her best effort of the season clearing 1.67m to win the Women's High Jump, while in the 'Pratten v Pratten' battle in the Triple Jump it was Gracie (PTOC) who prevailed over younger sister Esther (PTOC) in their private family duel.
8 Days previous, Tapenisa Havea (LIAC) would have been very happy with the idea of a throw of nearly 16m in the W18 Shot Put. This week's distance was clearly overshadowed by her Canterbury record effort of last week. A week can be a long time in athletic terms.
There were some commendable efforts by Senior athletes as well. Hannah Maloney (COBU), would be encouraged by her PB Long Jump into a strong head wind and Taeri's Mayce Ballantyne's 48.56m throw in the Hammer took out those events comfortably. It was encouraging to see former National Champion, Kelsey Berryman (COBU) taking her first tentative competitive steps, on her newly chosen take-off leg, placing second behind Maloney.
Heat is not normally an attractive proposition for distance running and the efforts of this group of athletes in the 3000m,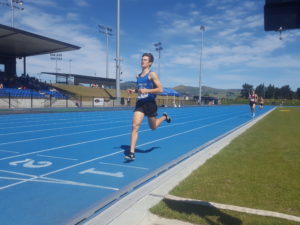 won by Luke Mitchell  (CHAV) and the 5000m lead by Thomas Richards (CHAV) should be commended. In the slightly more bearable 1500m distances, Ethan Smolej (PTOC) stood out with his near sub 4-minute victory in the Men's race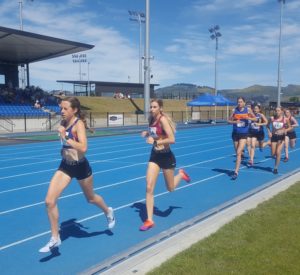 along with Tillie Hollyer (SCAN) whose 1.5 sec margin over Jessica Schofield (CANU) made for a good contest in the Women's.
Other strong performances on the day came from Nicholas Kini (COBU) with 16.89m in the M20 Shot Put and 47.07m from Tatiana Kaumoana (Te Awamutu) in the SW Discus.