Interclub Review of results - 24th October
Inter-club Review
24th October @ NPW
A hot but increasingly breezy day greeted athletes on Saturday.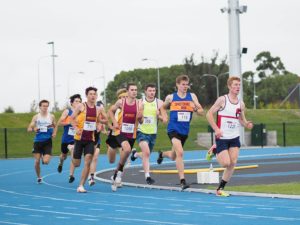 The Men's 800m race lived up to its pre-race expectation. Daniel Roswell (CHAV) changed from being the chaser to being chased this week. Ethan Smolej (PTOC) trailed across the line by a mere 0.19sec. in a race where both athletes comfortably breached the 2-minute barrier. Louis Andrews (COBU) lead out confidently running his first 800m since he was 12 but paid for the over enthusiastic approach in the first 200m, eventually holding on to his third place from the chasing pack.
The Women's short sprints again proved as highly competitive as predicted pre-races.
Jordan Blake (COBU) prevailed in the 60m from experienced Fiona Morrison (COBU), with Anna Hayward (COBU)  in 3rd. Last week's co-winner, Julia Burnham (COBU) could only place 4th. Once again, a very small margin, 0.1 sec, covered the first 4 athletes.
Anna Percy (COBU)  was a more decisive winner in the 100m, with her time of 12.14. The 200m also proved successful for Percy, though she was pushed closer by Anna Hayward (COBU) and Maia Broughton (COBU), in her season debut.
The Men's sprints also had a higher level of racing this week.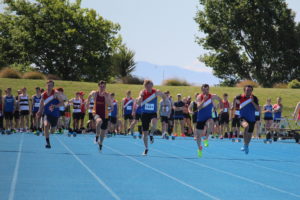 Elliot Nye (COBU) continued his impressive start to the season taking out the treble of 60m, 100m & 200m. His 7.15sec 60m gave him victory over James Sandilands (COBU), who also just shaded 16-year old Will Chun (COBU)  by 0.01sec and close behind Luke Mercieca (CANU). The 100m win by Nye was a wind assisted sub 11.00sec. run. He headed Max Attwell (COBU), with John Wells (CCCA) placing 3rd in a packed charge at the finish along with 4 other athletes covered by only 0.02sec. The sprint treble was secured by a strong finish, to edge out Attwell, again, who was completing his 5th event of a busy afternoon. Mercieca placed third with the same time as 4th placed Wells.
While most field events had small numbers of competitors, a number of throws events were bolstered with the presence of a strong group of Para athletes involved in a competition camp. Local Paralympian William Stedman (PRHL) was prominent in the sprints and Long jump along with most of the top-ranked Para athletes from around the country in the throws. This, once again, promoted the integrated approach athletics, as a sport, undertakes.
A strong tussle in the Pole Vault helped push M18 National Champion, Charlie Cameron (CCCA), to a PB 4.20m clearance and victory over Josh Bulls 4.10m. Eliza Meekings (PTOC) was again the top Women's vaulter with a jump of 3.30m.
Jared Neighbours (COBU), who won the Senior Men's Pole Vault at the start of the meeting, threw a very respectable 52.60m in difficult conditions, to finish the day.
The feature performance in the High Jump wasn't the fact that three athletes cleared 1.95m but that 16-year old Levi Ferguson (PHOX) was one of them. His successful clearance at the ultimate height was his third PB of the day and an improvement of 15cm on his previous best. The final result was a tie between Ferguson and the busy Max Attwell.
Alfie Baker (CCCA), who had the closest attempt at 1.98m was ultimately 3rd on countback.