Interclub review of results - 21st November 2020
Canterbury Inter-club Preview
Nga Puna Wai,
---
Saturday 21st November
Saturday's conditions were perfect…if you were an aficionado of Kite flying or Wind sailing.
The athletes, however, had difficult conditions which adversely effected their ability to perform. Despite this there were still some standout performances.
Will Chun (COBU) found one of the unlikely legal winds that occurred on the day to break the 11.00 second barrier for the first time in his career, running 10.92sec. A performance of this level in Tauranga, at the NZSS Champs., would make him a medal contender.  Runner-up, Marcus Wolton (COBU), also destroyed his PB, crossing the line ahead of early season standout, John Wells (CCCA) in 11.20sec, proving High Jumpers can truly 'do anything!'.
A High Jumper who excels in his primary event, Alfie Baker (CCCA), extended his PB to 2.02m on Saturday. His good form will be tested at the Rhythm & Jumps meet on Friday against his rivals for the Senior Boy's event in Tauranga next month.
It was a day of upsets for favourites in a couple of feature events. It started in the Women's 100m Hurdles where visiting Auckland athlete Amy Robinson (NHBC) defeated irregular training partner, National Senior Women's title-holder Fiona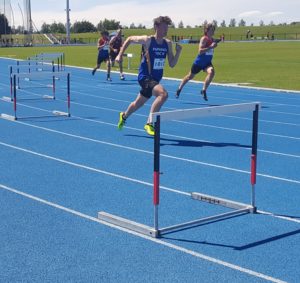 Morrison. Both athletes ran under the 14.00 second mark with their wind-assisted times of 13.67sec and 13.91sec, respectively.
The second occurrence was in the Men's 800m where Ethan Smolej (PTOC) followed up his excellent run over 1500m last week with a dominant victory over in form Daniel Roswell CHAV).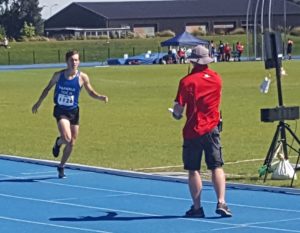 His time of 1:56.86 belied the wind conditions. Following the similar timed run of Dylan Forde (COBU) in Dunedin last weekend, Middle Distance followers could look forward seeing an exciting race at the South Island Champs. in a fortnight if all of the leading runners this season take up the challenge.
Maia Broughton (COBU) gets better with the passing of every week. This was illustrated by her commanding victory in the 100m. Despite the very strong following wind, her time of 11.84sec gave her a comfortable victory over Jordyn Blake's (COBU) 12.02sec run.
Blake got her revenge in the 200m later in the afternoon, with a much tighter margin over Broughton and 3rd placed McKenzie Jeffries (COBU) in her last run before departing for Japan for an extended period of time. The times of 25.52sec, 25.61sec and 25.69sec and a margin of 0.75 covering the top 7 athletes, proving how competitive the race was.
Away from NPW there was a Canterbury record in the Women's High Jump. Jumping at Porritt Stadium in Hamilton, Keeley O'Hagan (COBU) cleared 1.85m on her first attempt. This removed Kim Brown's (COBU) name from the record books that she shared. Brown set the record 22 years ago and which O'Hagan equaled when placing 5th at the World University Games last year. The jump gave her victory over current National and Oceania Champion Josie Reeves (WELL), another athlete who will feature at R & J IV next Friday.